Seminar dan Kursus Kedokteran Gigi Berkelanjutan (SKKGB) VII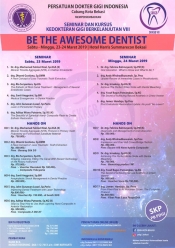 Hari, Tanggal : Sabtu-Minggu, 23-24 Maret 2019
Tempat : HARRIS Hotel & Conventions Summarecon Bekasi*
Jalan Raya Bulevard Ahmad Yani Summarecon, Bekasi
Materi Seminar
SABTU, 23 MARET 2019
Dr. drg. Mochamad Fahlevi Rizal, Sp.KGA (K) : Mineral Trioxide Aggregate (MTA) in Children Endodontic
drg. Dhanni Gustiana, Sp.BM : A New Concept of Less Traumatic Tooth Extraction
drg. Rio Suryantoro, Sp.KG : The Esthetic of Root Canal_ _Treatment : Management of Several Endodontic Cases
drg. Santi Anggraini, Sp.BM : Medical Emergencies in Dental Practice
drg. John Gunawan Lusari, Sp.Perio : Laser in Periodontal Therapy
drg. Aditya Wisnu Putranto, Sp. KG (K) :The Beautiful of Spherical Nano- Composite Resin to Create Esthetic Restoration
MINGGU, 24 Maret 2019
Dr. drg. Febrina Rahmayanti, Sp.PM (K) : Oral Ulceration : What to Know and What to Do ?
drg. Andy Wirahadikusumah, Sp. Pros : Update Review of Immediate Cases in Prosthodontic
Dr. drg. Irmaleny, Sp.KG (K) : Achieve The Perfect White Smile with Dental Bleaching
drg. Yusuf Bagus Pamungkas, Sp.KG : The Secret of Achieving Natural Aesthetic in Direct Veneer
drg. James Handojo, Sp.Pros : Post Endodontic Restoration Update : No post ? No crown ?
Materi Hands On
SABTU, 23 MARET 2019
HO1 : Dr. drg. Mochamad Fahlevi Rizal, Sp.KGA (K) : Mineral Trioxide Aggregate (MTA) Protocol in Primary Teeth Pulpotomy as Formocresol Substitute Material (Rp. 750.000,-)
HO2 : drg. Dhanni Gustiana, Sp.BM: A New Concept of Less Traumatic Tooth Extraction (Rp. 800.000,-) Free : Benang Silk 2/0
HO3 : drg. Rio Suryantoro, Sp.KG : Shaping, Cleaning, Filling The Canal With Recent Technology of Niti Rotary Instrument (Rp. 975.000,-) Free : Voucher Revodent Rp 100.000,-_ dan Composite Tokuyama
HO4 : drg. Santi Anggraini, Sp.BM : Anaphylactic Shock Management in Dental Practice (Rp. 800.000,-)
HO5 : drg. John Gunawan Lusari, Sp.Perio : Improving Dental Treatment with Laser Technology (Rp.600.000,-) Free : Voucher Rp. 150.000,- di booth SDS
HO6 : drg. Aditya Wisnu Putranto, Sp.KG (K) : Step by Step How to Use Multi-Layering Nano-Composite in Anterior Restoration_ *(Rp. 950.000,-) Free : Composite Z 250 XT

MINGGU, 24 MARET 2019
HO7 : Dr. drg. Febrina Rahmayanti, Sp.PM (K) : Diagnostic and Management of Oral Ulceration (Rp. 550.000,-)
HO8 : drg. Andy Wirahadikusumah, Sp.Pros : Impression and One Visit Crown/Bridge Technicque (Rp. 850.000.-) Free : Escom 100 Nano-hybrid Composite
HO9 : Dr. drg. Irmaleny, Sp.KG (K) Achieve The Perfect White Smile with Dental Bleaching (Rp. 700.000,-) Free : Bleaching product 3M
HO10 : drg. Yusuf Bagus Pamungkas, Sp.KG : The Secret of Achieving Natural Aesthetic in Direct Veneer (Rp. 950.000,-) Free : Voucher Voco Rp.150,000,-
HO11 : drg. James Handojo, Sp. Pros : From Fiber Post to All Porcelain Crown: The Complete Protocol (Rp.850.000,-) Free : fiber post 3 pcs tanpa drill
Biaya Seminar
1 Januari - 21 Maret 2019 : Rp. 850.000,-
Onsite : Rp. 1.000.000,-
Pembayaran dapat ditransfer ke rekening BCA nomor 066-112-7651 a/n Dwi Koryanti
Informasi dan Konfirmasi
drg. Ceriana Sarah : 082113229809 (WA)
drg. Auliya Citraflorina : 087775469685 (WA)
Peserta HO wajib mendaftar sebagai peserta seminar
CARA PENDAFTARAN : 
Konfirmasi CP Registrasi untuk ketersediaan Seat *HO*
Segera melakukan pembayaran
Segera melakukan pengisian pendaftaran online *(wajib di isi)*❗❗ _klik tautan paling atas_
Konfirmasi CP Registrasi setelah berhasil melakukan pengisian pendaftaran online ?
Peserta terdaftar setelah melakukan pengisian pendaftaran online
Jika mendapat kesulitan pada saat pengisian pendaftran on line silahkan hubungi CP Registrasi