North Jakarta Dentistry 2019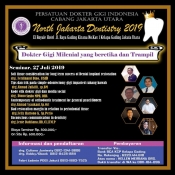 Tema : "Dokter Gigi Milenial yang beretika dan terampil"
Hari, Tanggal : Sabtu - Minggu, 27-28 Juli 2019
Tempat : El Royale Hotel, Jl. Raya Gading Kirana no. Kav. 1 Kelapa Gading
Materi Seminar dan Pembicara
Soft Tissue Consideration for long term success of Dental Implant restoration - drg. Ferdinand Dino, FISID
Tips dan trik pada simple odontectomy gigi impacted rahang bawah - drg. Ahmad Zulkifli, SpBM
Kode etik dokter gigi dan media sosial - drg. Diono Susilo, MPH, DHA
Contemporary of Orthodontic Treatment for general practitioner - drg. Ahmad Syaukani, SpOrt
Bad restoration margin in relation to periodontal tissue - drg. Felix Hartono K., SpPerio
Unconscious Communication in dentistry - drg. Lenie Dahlana, CHt, CI, LTNLP
Biaya Seminar
Rp 500.000,-
Onsite : Rp 600.000,-
Pembayaran dapat ditransfer ke rekening BCA Cabang Kelapa Gading, dengan nomor rekening 6320.414.618 atas nama Hellen Meiriana drg.
Bukti transfer harap di WA ke 0811.104-096
Info
drg. Culiana : 0812.1341.9806
drg. Robby/obenk : 0812.8428.8811
Febri : 0813.1883.7525