Bali Dental Science and Exhibition (BALI DENCE)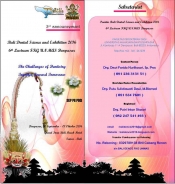 Hari, Tanggal : Jum'at-Sabtu, 30 September 2016 – 01 Oktober 2016
Tempat : Inna Grand Bali Beach
Keynote Speaker
"Orthodontic Approach to Temporomandibular Disorders" - Prof. Eiji Tanaka, DDS., Ph.D
"Desirable Role and Unhappy Trouble in Implant" - Prof., Akifumi Enomoto DDS, Ph.D
Materi dan Pembicara Seminar
 "The Fundamental of Fixed Prosthodontics in Daily Practice; Esthetic vs Longevity of The Result, Which One Is Our Main Goal?" - Drg. Jonan Angkawijaya, Sp.Pros
"Labial Veneer : Easy & Simple" - Drg. Mirza Aryanto, Sp.KG
"Functional Occlusion for Restoration Longevity" - drg. Leonard C. Nelwan, Sp.Pros.
"Single Shade for Anterior Restoration" - drg. Dewa Made Wedagama, Sp.KG
"Perkembangan Radiologi  Kedokteran Gigi  Terkini, Alat dan Radiodiagnosis" - Dr. drg. Haris Nasutianto, M.Kes. Sp.RKG (K)
"Source of Root Canal Infection.. Know it, Find it and Disinfect it" - drg. Marino Sutejo, Sp.KG
"Predictable Posterior Restorations Using NanoComposite" - drg. Rina Permatasari, Sp.KG
"Risk Management in Orthodontic Treatment" - Dr.drg. I.B. Narmada, M.Kes., Sp.Ort.
Materi dan Pembicara Hands On
"Creating a Perfect Temporary Crown and Bridge with Latest Material" , "Creating a Perfect Impression for a Good and Predictable Crown and Bridge" - Pembicara : Drg. Jonan Angkawijaya, Sp.Pros - Biaya : Rp 800.000 (Peserta : 20-40)
"SUPERBOND; Unique and Multipurposes Cement" - Pembicara : Drg. Rudi Wigianto, Ph.D - Biaya : Rp 400.000 (Peserta : 10-25)
"Labial Veneer : Easy & Simple" - Pembicara : Drg. Mirza Aryanto, Sp.KG - Biaya : Rp 800.000 (Peserta : 20-40)
"Interpretasi lesi tulang dan gigi pada Ro Panoramik dan Periapikal"  - Dr. drg. Haris Nasutianto, M.Kes. Sp.RKG (K) - Biaya : Rp 400.000 (Peserta : 10-40)
"Single Shade for Anterior Restoration" - Pembicara : drg. D.M. Wedagama, Sp.KG - Biaya : Rp 800.000 (Peserta : 10-40)
"Teknik Splinting Sederhana pada kasus Bedah Mulut" - Pembicara : Drg. I Made Merta Suparka, Sp.BM - Biaya : Rp 400.000 (Peserta : 10-40)
"Simultan Root Canal Shaping" - Pembicara : drg. Marino Sutejo, Sp.KG - Biaya : Rp 900.000 (Peserta : 10-40)
Direct Posterior Composite Class II Restoration" - Pembicara : Drg. Rina Permatasari, Sp.KG - Biaya : Rp 800.000 (Peserta : 20-40)
Biaya Seminar
Sesudah 31 Juli 2016
Dokter Gigi: Rp. 1.000.000,-
Mahasiswa / Perawat Gigi: Rp. 900.000,-
On Site       :  Rp. 1.200.000
Pembicara :  Rp. 900.000,-
Info
Drg. Dewi Farida Nurlitasari, Sp. Prost.(081236313151)
Presentasi Oral dan Poster : Drg. Putu Sulistiawati, M.Biomed. (0818347601)
Registrasi : Drg. Intan Putri Sitasari (082247541493)