Pertemuan Ilmiah Nasional Ke-9 (PIN ke-9)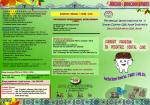 Biaya seminar 
Sebelum 15 Januari 2016 : Rp 1.200.000,-
Sesudah 15 Januari 2016 : Rp 1.500.000,-
Biaya seminar dapat ditransfer ke rekening BCA dengan nomor rekening 861.0018.093 atas nama Sakinah
atau bank Mandiri dengan nomor rekening 137-00-1039949-7 a.n. Sakinah
Harap konfirmasi setelah melakukan pembayaran dengan SMS/ WA ke drg. Sakinah, SpKGA 0818.2510.72
Hari, Tanggal : Kamis, 31 Maret 2016
Basic Life Support
Tim BLS RS Moewardi Solo
Tempat : Hotel Best Western
Waktu : 08.00 - 15.00 WIB 
Biaya : Rp 900.000,-
Baksos
Tempat : Atrium The Park Solo Mall
Waktu : 15.00 - 18.00
Biaya : Rp 200.000,- (wajib hadir)
Hari, Tanggal : Jum'at-Sabtu, 1-2 April 2016
Tempat : Hotel Best Western Premier Solo
Ceramah Utama 
"A New perspective on Occlusion and TMJ" : drg. Jakobus Runkat, Sp.KGA (K)
"New Concept of Crowding Teeth Treatment for Pedodontic" : Tae Weon Kim, DDS, MSD, PhD
"Peran Dokter Gigi Anak Dalam Penanggulangan HIV di Indonesia" : dr. Ronald Jonathan, MSc, DTM&H
"Myofunctional Orthodontics Pada Anak Fase Tumbuh Kembang" : Dr. drg. Muh. Harun Achmad, MKes, Sp.KGA
"Step by step Ceating Immediate Bulk Restoration by using Fiber Reinforced and Bulk-fill material" : drg. Aditya Wisnu Putranto, SpKG
"Obturator" (tema spesifik dalam konfirmasi) : drg. Max B. Leepel, Sp.Pros
"Risiko Perdarahan dan Sepsis pada Perawatan Gigi Anak dengan Gangguan Hematologi" : dr. Muhammad Riza, Sp.A, MKes.
Hands on 
Jum'at 1 April 2016
"A New perspective on Occlusion and TMJ" : drg. Jakobus Runkat, Sp.KGA (K) - biaya : Rp 750.000,- maksimal 50 peserta
"Konseling dan Test HIV bagi Dokter Gigi Anak" : dr. Ronald Jonathan, MSc, DTM&H - biaya Rp 300.000,-
Sabtu, 2 April 2016
"3D Clear Aligner for Crowding Teeth Treatment" : Tae Weon Kim, DDS, MSD, PhD - biaya : Rp 1.000.000,- maksimal 40 peserta
"Step by step Ceating Immediate Bulk Restoration by using Fiber Reinforced and Bulk-fill material" : drg. Aditya Wisnu Putranto, SpKG - biaya : Rp 750.000,- maksimal 40 peserta
"Myofunctional Orthodontics Pada Anak Fase Tumbuh Kembang" : Dr. drg. Muh. Harun Achmad, MKes, Sp.KGA - biaya : Rp 1.250.000,- maksimal 50 peserta
"Step by Step Obturator" (tema spesifik dalam konfirmasi) : drg. Max B. Leepel, Sp.Pros - biaya : Rp 750.000,-, maksimal 50 peserta
Minggu, 3 April 2016
Continuing Professional Development (CPD) : Interceptive Orthodontics - Dr. Peter Loh : Biaya Rp 1.500.000,- (Maksimal 100 Peserta)