MEDAN DENTISTRY 2018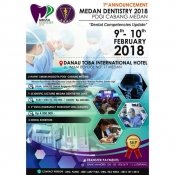 Hari, Tanggal : Jum'at- Sabtu, 9 – 10 Februari 2018
Tempat : Danau Toba International Hotel
Jl. Imam Bonjol No. 17
Biaya Seminar
- Early Bird = Rp 450.000
- On Site = Rp 600.000
3rd EWOS (Emergency Workshop Oral Surgery) :
- Rp 4.000.000
Pembayaran via Transfer ke:
Rekening Bank Mandiri
No. Rek 106-05-0061619-1
a/n Luthfiani Dental Exhibition
Materi Seminar
Prof. Haslinda Z. Tamin,drg., M.Kes., Sp. Prost (K) - Indonesia : "Mouth Rehabilitation Using Interim Denture And Fixed Partial Denture
To Improve Quality Of Life"

drg. Shaukat Osmani, Sp. BM - Indonesia : "Kegawatdaruratan Infeksi Rongga Mulut"

drg. Pitu Wulandari, S.Psi., Sp. Perio - Indonesia : "Periodontitis dan Perawatannya"

drg. Rinto Abimanyu, MARS., Sp. KG - Indonesia : "Feasible Step To Restored Class V"

dr. Fifianti Putri Adela, M.Ked (OG)., Sp. OG - Indonesia : "Perawatan Gigi Dan Rongga Mulut Pada lbu Hamil Dan Menyusui"

drg. Dion.o. Susi.to,.M.PH . Indonesia : "Perkembangan Etika Kedokteran Gigi di Era Globalisasi"

dr. Prathip Phantumvanit - Thailand : "Smart : Preventive Restoration On Young Children"
Materi Hands On
HO-1 drg. Rinto Abimanyu, MARS., Sp. KG - Indonesia : "Feasible Step To Restored Class V" - Rp 750.000,-

HO-2 dr. Prathip Phantumvanit - Thailand : "Smart : Preventive Restoration On Young Children" - Rp 500.000,-

HO-3 Tim Periodontal USU : "Aesthetic Gingival Procedure to Achieve better Smile" - Rp 700.000,-
Info
• drg. Fandi : 0821 6387 9182
• drg. Eka Wina : 0812 1011 4414